Follow Mr. E on Substack and Twitter!
In 2020, the Canadian Assistant Deputy Minister for Public Affairs informed the Canadian public that "They must know that they are not targets." A strange statement coming from someone in the employ of what is supposed to be a servant government. The Canadian military had recently been embroiled in a scandal whereby they faked a letter from the Nova Scotia Department of Lands and Forestry, warning the residents of the Annapolis Valley that a group of wolves were on the loose. The military even set up speakers in the woods to play sounds of wolves.
After investigating themselves for this crime, they determined that it was a simple lack of oversight that was the problem, rather than a systemic problem with how the military perceives its relationship with the Canadian public who pays them. Rather than learn from this outrageous crime, the military has continued this program of propagandizing the people it's supposed to protect from outside forces.
Military Psychological Operations
The Atlantic Council is a well-known US-based supporter of NATO, comprised mainly of western companies from the energy and military-industrial complex. Lesser known is their Canadian sister-entity, the NATO Association of Canada. One of the primary war strategies being pushed by them is called Cognitive Warfare, described as "a battle for the brain" and a domain "where state and non-state actors aim to influence what people think and how they act." In a chilling disclosure, a 2020 NATO-sponsored report said explicitly that "the objective of Cognitive Warfare is to harm societies and not only the military."
To that end, the Canadian Forces have adopted a digital strategy and set up a psy-op team in the 5th Division. They are quite frank about their purpose; "We exist to identify and realize potential opportunities to cooperate with local businesses, non-profit groups and civilians in an operational theatre." The operational theatre being your very own cities and towns, from where they recruit willing individuals to engage in propaganda campaigns designed to influence your thinking and behaviors in ways that are useful to the growing totalitarian state.
This brings us now to the case of Chris "Sky" Saccoccia, whose sudden and inexplicable rise to fame has all the hallmarks of not only a military psy-op but also potentially of mind control experimentation. You should know that Canada was a partner in the CIA's MKULTRA program, with Dr. Donald Cameron running a secret lab for decades out of the University of McGill where he engaged in the torture of countless non-consenting individuals.
Meet the Sky's
Prior to the COVID-19 pandemic, little to nothing was known about Chris or his wife Jennifer (maiden name Danao). Neither had anything to do with the liberty movement or human rights activism until very recently. Chris appears to have been born and raised in the Greater Toronto Area, working as a Vice President in his father's construction company, Sky Homes. The earliest mention of Chris that can be found in the media is from a 2014 story in the Globe and Mail about machinery being stolen from job sites.
More, however, can be found about his wife Jennifer. While a report on her, which was subsequently taken down, states she hails from Katy, Texas, her own modeling profile states she's from North Miami Beach, Florida.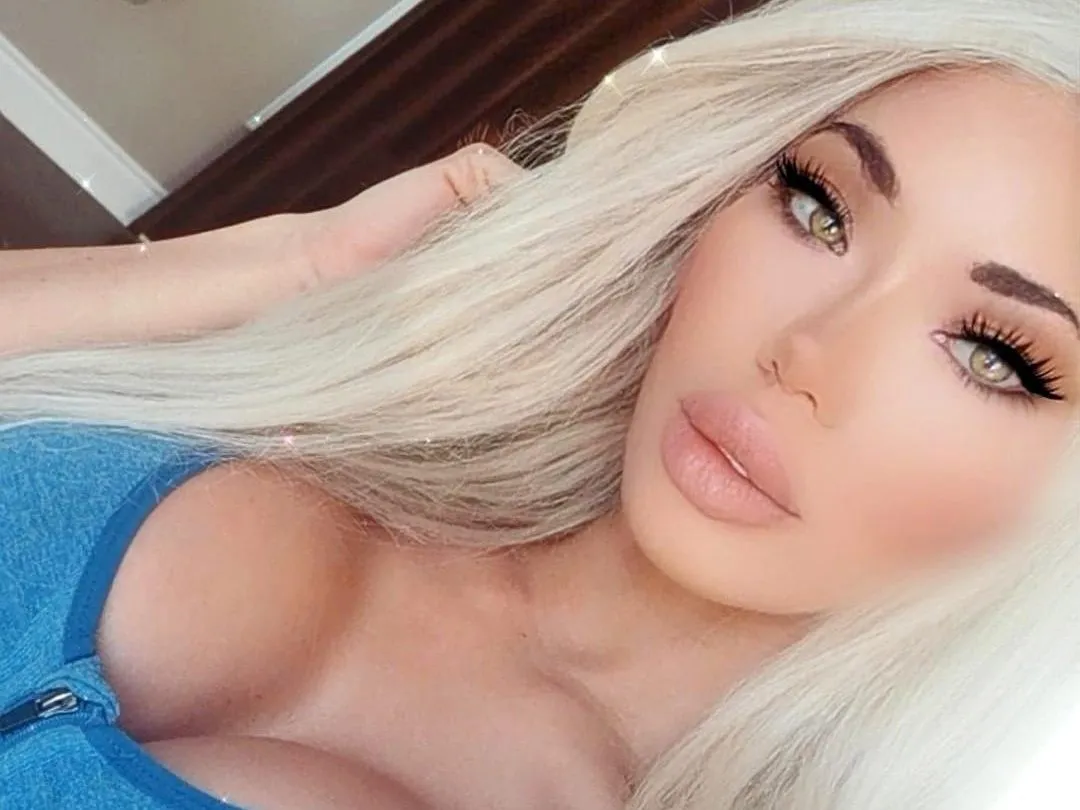 When, and how, she and Chris ever met is a mystery as their relationship has never been covered by anyone.
The Sky's were not active even in the early days of the COVID-19 pandemic, as evidenced by an article from March 17, 2020 about the couple's massive Great Dane that appeared on the UK's Mirror website. Chris is described as her "home developer husband" and nothing else of the couple's activities are discussed. Why such a publication would take interest in a couple of foreigners and their dog is something that could have easily slipped notice, had they not rocketed to national notoriety in mere months, only for their marriage to completely collapse in the strangest of fashions.
Happily Married, or MKULTRA Slaves?
Chris Sky's opposition to mask mandates and the government's COVID-19 agenda began at a protest organized on May 2, 2020, where he received instant coverage from Rebel News, BlogTO, and even Ed the Sock. The police response to any opposition to the COVID-19 measures was uniformly brutal. Other activists, like the well-known preacher Artur Pawlowski and pitmaster Adam Skelly, were continually harassed, arrested, prosecuted, gagged, and had their businesses destroyed over their activism. Chris, however, appeared to have some sort of catch-and-release agreement with police nationwide, never once receiving the same treatment from the judicial system. Chris traveled the country taunting police at every opportunity, getting arrested in just about every province, yet is miraculously immune from prosecution or gagging the entire time.
Around mid-2020, someone going by the name of Henry Case (a.k.a. "Covfefe Operations") appears to have set up over a dozen websites for Chris to disseminate his message through. Today, all of these sites have been taken down, but the Web Archive preserves nearly everything, and it can be seen that in every case these sites were visually identical, sharing only different domains while maintaining the Covfefe Bakery + Operations branding.
In September 2020, one of these websites began an initiative to create anti-mask schools across Canada, where children could go to receive an education without being subjected to the abusive and traumatizing COVID-19 measures that have left some children dead or with permanent disabilities.
It is at this point that one must seriously start to question the nature of Chris and Jennifer's "marriage", their activities in the media, seeming immunity from prosecution, interest in children, and help from a very capable IT professional – who may in fact be their handler, referred to as a Hollywood-esque Production Specialist by the Canadian military. You must also remember that the MKULTRA project worked to perfect the science of breaking the minds of human beings, typically through electroshock, extreme sexual abuse, and torture as revealed by the testimony of Claudia Mullen during the President's Advisory Committee on Human Radiation Experimentation and many other survivor accounts. Pedophilia is often used, as pedophiles are easily controlled by the threat of exposure. Such extreme abuse causes the mind, particularly that of a child, to disassociate and become two or more distinct personalities. Selective amnesia, substance abuse, psychosis, PTSD and many other forms of mental illnesses are the manifestations of this program being inflicted on people.
Keep these effects in mind.
On December 11, 2020, Jennifer seemingly registers a Twitter account. The profile picture features her, standing behind their prized Great Dane, and states it is a "Doggy parody" account. The banner image features Chris, in drag. Her first post, is seemingly positive on their relationship, calling her and her husband "famous influencers."

In a matter of days, things start getting strange. Her next post, dated December 16, is about "My baybe," Chris, wanting kids to sit in his lap all day and being very excited for them to do so. Chris is apparently sterile from steroid abuse. Back in September, when Chris was trying to set up his anti-mask schools, the couple had told reporters that, though they had no kids themselves, they wanted to have children and for the world to be a safe place to raise them.
Twiter ! My baybe @chrissaccoccia1 love kid so MUCH he want them on his lap ALL DAY he get SO excited for them!

my baybe make such nice things for kids ever since doctor told him he sterile from roids so no babbyy for me xoxoxo J https://t.co/a8quWekySI

— JennyLeftSacc (@JennySaccs) December 16, 2020
Over the next week Jennifer makes several positive posts on Twitter but then, on December 26, an "apology" letter of hers is published through the network of sites maintained by Henry Case on behalf of Chris.
I NEED TO ADDRESS A PROBLEM THAT'S BEEN HARD ON MY CHEST. MY HUSBAND AND I HAVE BEEN DEALING WITH SOME PERSONAL ISSUES THESE PAST COUPLE MONTHS. THE THINGS I HAVE SAID REGARDING CHRIS SKY WERE BEING SAID TO ME WITH NO HARD EVIDENCE. I PORTRAYED HIM INTO SOMETHING EVIL BECAUSE OF THE THINGS I WAS TOLD. I BELIEVED THIS PERSON AND I APOLOGIZE FOR VENTING WHEN THESE THINGS WERE NOT CONFIRMED. I WAS GOING THROUGH A DIFFICULT TIME AND I DIDN'T KNOW WHAT TO BELIEVE. CHRIS SKY IS AN AMAZING PERSON AND WAS A LOYAL HUSBAND TO ME BUT I WAS BLINDED TO SEE THAT. ANYTHING YOU HEAR NEGATIVELY ABOUT HIM, DO NOT LISTEN! DARK FORCES HAVE BEEN IN PLAY BUT LIGHT ALWAYS WINS!
– JENNY SACCOCCIA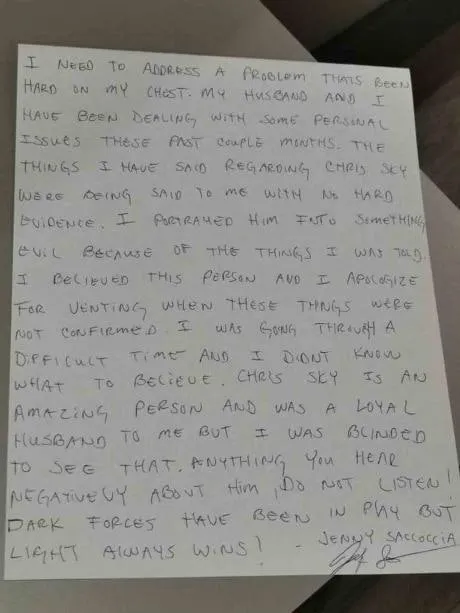 One cannot read this and help but draw comparisons to the exchange between Kanye "Ye" West and his so-called personal trainer, Harley Pasternak, himself a Canadian and trained by same branch of the Canadian military that funded the MKULTRA experiments at McGill. It was Pasternak who had Ye committed to a mental health facility, where he was forcibly drugged, and possibly electrocuted, to change him mentally into something his controllers wanted.
In the case of Jennifer, it behooves us to ask who it was who was telling her these things about Chris, why she came to believe her husband was evil, and what happened to subsequently change those beliefs, making Chris into an incorruptible angel?
The day after this "confession" Jennifer took to Twitter to deny her authorship of this letter. The letter may be a forgery, but it could very well be obtained through some sort of psychological torture.
ommggg SO DRAMA ! ! !

baybbee y internet make fake letter ?

if I really write, no way such PERFECT spelling@chrissaccoccia1 plz make radical left deelete letter from inyternet like u PROMISThttps://t.co/DXZiKHAlyp

— JennyLeftSacc (@JennySaccs) December 28, 2020
After this, Jennifer took a notably negative view of her husband on Twitter. She leveled a litany of insults at him, including infidelity, and suggested he may be in a homosexual relationship with Rob Carbone, leader of the Canadian Republican Party. Carbone featured prominently in a stunt Chris pulled in 2021 involving the made-up claim that Carbone was now in charge of Canada's banks because he had obtained a copyright on the legislation that established the Canadian Infrastructure Bank.
2020 best year 4 my baybee @chrissaccoccia1

influencer career = ruined 4ever
family = disown him
marriage = collapsed
reputation = delusional egomaniac laughingstock
Rob Carbone = kiss under mistletoe
followers = handful of fringe weirdos

Enjoy fading into obscurity in 2021 ! !

— JennyLeftSacc (@JennySaccs) January 1, 2021
"You get to suffer. And you deserve it."

omggg EXACTLY what my baybbee told me when he kicked me out and cut me off just because I complain abuot his chronic PHILANDERING and MENTAL HEALTH ISSUES ! ! !#ChrisSkyMeltdown https://t.co/or6KV8OaM0

— JennyLeftSacc (@JennySaccs) January 5, 2021
Rob Carbone himself was once embroiled in a naturalization scheme involving Russian women who were lured to Canada with the promise of a modeling career, only to be used in the sex trade. This pattern appears not completely unlike Jennifer's own experience, being an aspiring model from the USA who, somehow, found herself in Canada and potentially married into a military psy-op. Yet, it may not be the USA that Jennifer truly is from. On December 27, 2020 a singular post was made to the Twitter account in perfect Russian that reads "My dumb ex-husband loves to masturbate to shirtless pictures of Putin on horseback and is happy to unwittingly spread Russian propaganda on social media!"
Мой тупой бывший муж любит мастурбировать под фотографии Путина без рубашки на лошади и счастлив невольно распространять российскую пропаганду в социальных сетях!

— JennyLeftSacc (@JennySaccs) December 27, 2020
Altogether the bizarre Twitter account, active only for 3 weeks, seemingly illustrates in real-time the emotional rollercoaster of a very distraught woman as she comes to terms with the sham marriage she is in, alternating between defending and attacking her husband, before abandoning the account after her re-education. It also demonstrates a superficial awareness that her and Chris's activities are not completely on the up and up. If this truly were a troll account, it would be the world's shortest.
Descent Into Madness
Despite the "apology" letter incident, Jennifer continued appearing with Chris at various events across the country. But throughout 2021 Chris's behavior appears to have become increasingly erratic and violent. Videos of him hurling abuse at his volunteers have been uploaded to the internet, and former volunteers have gone online to tell their stories about working with him.
Two of Chris's former volunteers disclosed that Chris was selling upwards of $20,000 of merchandise at each event he attended. They "did all the heavy lifting" for him while enduring very difficult working conditions, even physical assaults by Chris as he continually tried asserting his superiority over everyone around him.
By the end of 2021 Chris had taken to insulting his fellow protestors. At one rally in Nanaimo, BC he forced his way on stage, interrupting a musical act, and launched into a rage-filled tirade, berating the audience over their chosen form of protest.
What sort of action Chris would prefer to see is never explained by him, but one should recall the purpose of an Agent Provocateur. These agitprop purveyors don't only pretend to be a protestor on the street, sometimes they are leading whole movements and media channels. Recall that Hal Turner, a prominent spokesperson in the alt-right movement, is an FBI informant. Another alt-right agitator and leader of the Proud Boys, Enrique Tarrio, is similarly an FBI informant. We should not be surprised to see the same thing playing out in Canada, especially given the fact that Chris's apparent handler, Henry Case, used alt-right tropes throughout all his online properties.
Final Thoughts
It's hard to conclude something like this. There's still so much left that is unknown. Nevertheless, it certainly appears to be the case the Chris "Sky" Saccoccia is an agent provocateur being used to discredit the human rights movement in Canada by making them appear to be absolutely crazy, violent malcontents that must be dealt with by force.
And Jennifer, if you're reading this, and I'm anywhere near the mark – run.
---
Links to Jennifer Sky's Apology Letter and domain WHOIS Information
Ontariofraud.org (Archive) (WHOIS)
Reopeningontario.ca (Archive) (WHOIS)
Covfefebakery.com (Archive) (WHOIS)
Fordkilledmybusiness.com (Archive) (WHOIS)
Masklaw.ca (Archive) (WHOIS)
Henrycase.org (Archive) (WHOIS)
Masksickness.ca (Archive) (WHOIS)
Killingontario.ca (Archive) (WHOIS)
The post The Chris Sky Psy-Op first appeared on Mark E. Jeftovic is The Bombthrower.