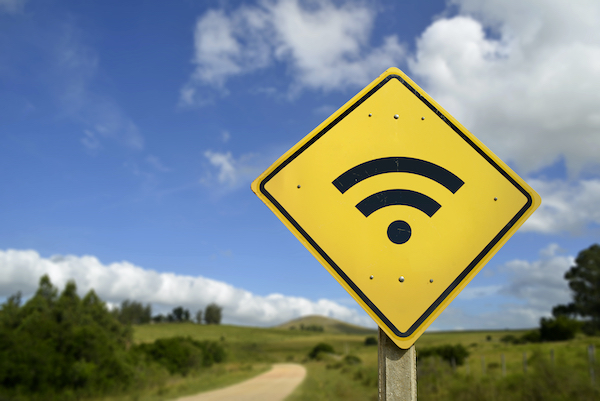 easyDNS is pleased to sponsor Jesse Hirsh's "Future Fibre / Future Tools" segments of his new email list, Metaviews.
The reigning champion for fast rural fibre
As the agricultural industry is transformed by technology, farmers are embracing the hacker ethos, and this necessarily includes connectivity and rural fibre infrastructure. Farmers often have access to heavy equipment, and modest capital, and therefore the ability to take the Internet into their own hands, and wire up their own communities.
That's exactly what's happened in Lancashire in rural northwest England, as Broadband for the Rural North Ltd, or B4RN, have successfully built and continue to build what is currently the world's fastest rural broadband network. True gigabit fibre to the home, priced at a reasonable 30 pounds per month.
The farmer who built her own broadband – BBC News https://t.co/49sACKZ3eg > Maybe this is where more of the rural subsidy could be going. pic.twitter.com/c6UamsE6Gs

— Paul Halliwell (@pjhalliwell) December 28, 2016
B4RN now claims to have laid 2,000 miles (3,218km) of cable and connected a string of local parishes to its network. It won't connect a single household, so the entire parish has to be on board before it will begin to build.
Each household pays £30 per month with a £150 connection fee and larger businesses pay more. Households must also do some of the installation themselves.
The entire infrastructure is fibre-optic cable right to the property, rather than just to the cabinet, with existing copper phone lines running from that to the home, as generally offered by British Telecom.
The service is so popular that the company has work lined up for the next 10 years and people from as far as Sierra Leone have attended the open days it holds a couple of times a year.
The bulk of the work is done by volunteers, although there are now 15 paid staff also on board. Farmers give access to their land and those with equipment like diggers and tractors do the heavy work.
B4RN is registered as a community benefit society, owned and controlled by its members, with profits redistributed back to the community it serves, and it can never by bought by a commercial operator.
As an ISP, B4RN does not expand into a community, rather that community must buy into B4RN. When a community wants to join the network, they have to raise the investment necessary to pay for the extension and installation of the network to their community. From the B4RN investment page:
Every community's core investment is made up of shares, the value of which can be ring-fenced for supporting the build-out in their area. For full details please see the shareholder prospectus on the Resources page.
Minimum shareholding £100 / maximum £100,000.
All shareholders are members of B4RN. One member one vote.
Shares must be held for a minimum of 3 years.
Investment in shares attract the current rate of 5% which can paid out or reinvested year on year.
Some shareholders choose to invest £1,500 and claim free connection worth £150.
Shares can only ever be sold back to B4RN at £1 each.
B4RN was also recently successful at issuing a crowdfunded bond offer:
The #Broadband for the Rural North (B4RN) bond offer exceeds its £3 million target and remains open for more funding. https://t.co/Qoviwe8ikH @dig2agig pic.twitter.com/sDGkUUsp4g

— Oak Consult (@OakConsult) July 9, 2019
Community-owned broadband pioneer, Broadband for the Rural North (B4RN) has now successfully raised over £3 million on the Triodos crowdfunding platform. The investment will help to expand its high-speed fibre optic broadband network and tackle the problem of insufficient and slow broadband, which is a significant issue in rural UK communities.
Due to increasing interest in the organisation and its work, the investment opportunity will remain open over the rest of the summer. The additional funding will enable B4RN to expand its network even further, to connect more villages and communities waiting to join the network more quickly and ensure rural areas need not be the poor relation when it comes to efficient broadband.
B4RN's profits are also reinvested back into the community in a variety of ways, for example by providing internet to schools in its network free of charge.
One of the inspiring aspects of B4RN is their desire to empower their communities with literacy as well as connectivity. Their growing resources section of their website has information for customers, community investors, landowners, and volunteers.
It's the last two that provide insight into how community networks like this can be created with the least amount of resources.
Enabling landowners to bury cable on their land, connecting different parts of the community via co-operation, and empowering a growing number of people who can then respond to an outage, weather damage, or any other issue that may impact the collective connectivity.
Landowners and workers can also claim shares in exchange for their contributions of labour when it comes to installing, extending, or maintaining the network.
B4RN (Broadband for Rural North) is a great example of what's possible when communities decide to create the solution to their connectivity.
Great news! The primary school at the end of our street is now live on symmetrical #B4RN gigabit fibre broadband. Sounds like an expensive service? No. It's free! All primary school get the service for free. https://t.co/qcHFsRh7mL

— Martyn Dews (@Yorkie71) January 14, 2020
This is the view from the #B4RN office today. Fusion splicing new customers onto the network in the field. Literally! pic.twitter.com/fjuMGnH6ll

— dig2agig (@dig2agig) June 2, 2014
As with any community network, B4RN faces problems of scale. The consequence of their success is that demand for their services far outpaces their ability to connect new communities. That was part of the motivation for their recent crowdfunded bond, and they're also now receiving modest government subsidies.
However issues of larger government funding politicize the way in which rural connectivity happens. Often these state funds go to larger companies, who are seen as safe best. Yet what B4RN demonstrates is that local, community based solutions, are not only more cost effective, but deliver more reliable and faster service overall.
As well, B4RN's commitment to train, employ, and mobilize local expertise facilitates the ability to maintain and grow the network overtime.
As a member of INCA, the Independent Networks Cooperative Association in the UK, B4RN is helping to spread their model to other network and organizations in Britain.
The fine folks at B4RN are super busy, but they do make an effort to share their wisdom openly online and via local workshops and events.
Part of the purpose of this Future Fibre series is to profile organizations like B4RN, and learn from their experience. In this case that involves the model of community funding, the employment of community and volunteer labour, the use of private land to run or bury fibre optic cables, and the provision of free service to schools and community organizations.
However another purpose of the Future Fibre series is to build a set of resources that help communities follow the footsteps of B4RN or other comparable community networks. That's where B4RN's resources section provides an excellent start.
What do you think of B4RN? What resources would you want to see in a community ISP knowledge kit? Would you ever consider being part of your community's internet solution?
Stay tuned for future issues where we'll expand and organize these kinds of resources.
"Future Fibre" is a recurring series in the Metaviews newsletter where we share some of the research, other models, news, and ideas around community based connectivity.
And finally, this is a fantastic radio report (with pictures) about B4RN from 2013:
This post is only for paying subscribers of Metaviews, but it's ok to forward every once in a while.