easyDNS is pleased to sponsor Jesse Hirsh's  Metaviews.
KiN is a not-for-profit internet service provider in the West Kootenay Region of British Columbia
In this midst of this pandemic, we're finally recognizing the Internet as essential infrastructure (morally but not yet legally). How that infrastructure is built, maintained, and configured is incredibly important, especially as our economy collapses. Without Internet access, our economy would be even worse, and would be significantly harder to restart, once the opportunity presents itself.
Smaller communities are hardest hit, and that reinforces why Internet that reflects and respects the needs of a community is so crucial. In the West Kootenay region of British Columbia, KiN, or the Kaslo infoNet Society, has been able to provide high speed broadband Internet to residents at reasonable prices.
Located in eastern British Columbia, the Kootenays feature rugged mountainous terrain and dense forests, high peaks and steep valleys, with Kootenay Lake in the middle, and Kaslo located on the western shore. Kaslo was founded as a city in 1893 as part of a silver rush, however reformed as a village in the 1950s, and currently has a population just under a 1,000 people, employed mostly in forestry and tourism.
A community that small, located in a region that is sparsely populated, and not easy to get to, does not attract (affordable) external telecommunications providers. Rather the community has to rely upon themselves to get connected and enable high speed Internet access.
Started in 1996, KiN has slowly and steadily built out a network in Kaslo and the surrounding region. For the first 10 years, KiN was limited to dial-up access, however starting in 2006 the group started installing high speed wireless transmitters throughout Kaslo and neighbouring communities.
enjoying a mountain based internet experience for this weeks #gischat

Wide area wireless network thanks to https://t.co/rlDjZdqNZG pic.twitter.com/1h0vFyZGyY

— Jody Garnett (@jodygarnett) August 7, 2018

Managed by a group of local volunteers, KiN only has two staff, a network administrator and a field support technician.
BEST field test day EVER! In Kaslo testing wireless broadband in the toughest terrain…and our equipment did even better than expected. Thanks Kaslo InfoNet for the excellent opportunity!! pic.twitter.com/5LmFPHINCM

— Mage Networks (@magenetworks) April 5, 2018
In 2014 KiN started to install fibre optic lines in Kaslo, and in communities already served as part of their wireless network.
The following video features KiN board member Tim Ryan talking about some of the challenges of installing fibre in mountainous geography, that necessarily involves a hybrid approach that combines wireless links with fibre where possible.
Tim makes an important point in this video. That not only will large providers not bother with smaller communities, but if and when they do, it costs way more, and the network design is far less efficient. Yet when communities do it themselves, it should only be cheaper, but also smarter, as locals tend to know their geography and market.
Here's an excerpt from their mission statement on expanding fibre via their hybrid system:
When KiN began building fibre optic networks in Kaslo in 2014 we began engineering a combination of local fibre networks to replace subscriber radios and using a single high capacity AirFiber Radio link to replace the access point radios. This has allowed us to increase both the capacity and quality of service.

Instead of 1.5 to 10 megabit service with each radio subject to local conditions at each subscriber's location, we are able to deliver 10 to 50 megabit service and maintain only one carefully chosen radio location. The speeds we offer on Fibre systems are limited only by the AirFiber link and the backbone network it is connected to.
This kind of creativity is exactly what communities are great at, but larger companies don't bother with. It's also why we feature groups like this in our series, as we want to learn and gather innovative examples like this.
For example, KiN's relay towers are a fascinating combination of solar panels and wireless relays, that also often act as local hubs for fibre access: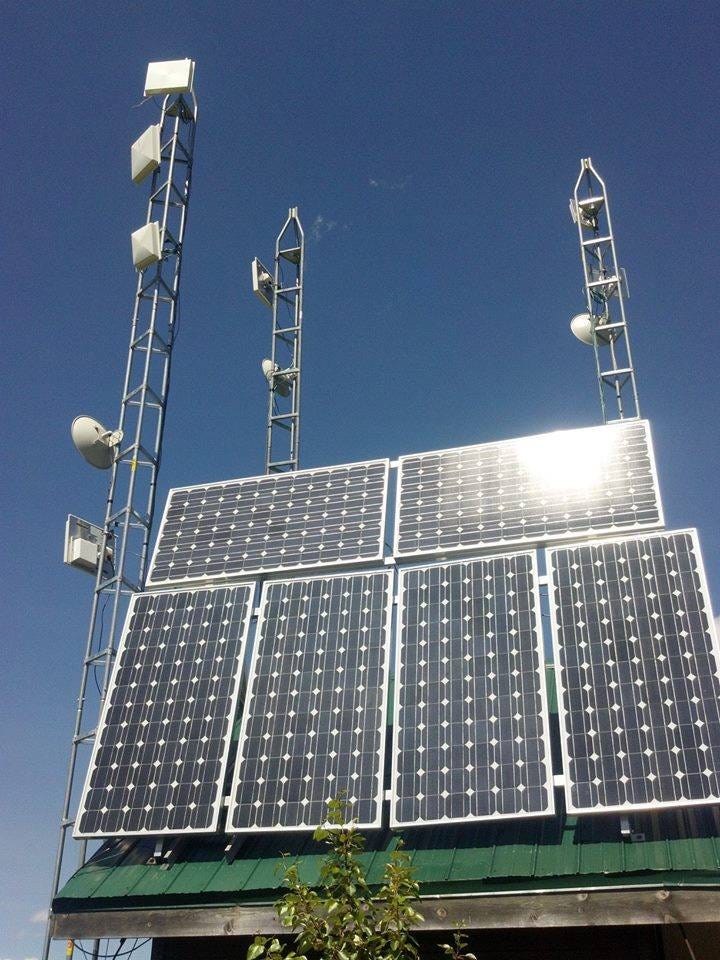 And, interestingly enough, KiN is even running fibre on the bottom of Lake Kootenay, here's a photo from their FB page:
And a bit of explanation from their fibre mission:
Today our backbone network is all AirFiber from the CBBC network location in Crawford Bay. This too is about to change. Construction is about to start on a submarine fibre cable system from a CBBC feed point in Balfour that will expand our current capacity thirty fold with ongoing capacity for further expansion. This construction project will bring that capacity to Kaslo this year and further up the lake next year, and provide the capacity to extend 50 megabit service to most of the West shore in the next few years.
Here's an article from two years ago that talks about this underwater fibre install:
It was a novel approach — looking at a 36-kilometre stretch of northern Kootenay Lake as an opportunity, not a barrier, to the delivery of high-speed Internet.

Now, with an underwater fibre optic cable connecting Balfour, Kaslo and points in between, residents, businesses and local governments there and beyond can benefit from faster and more reliable Internet services.

The project was managed by Columbia Basin Broadband Corporation (CBBC), a wholly owned subsidiary of Columbia Basin Trust, and supported by the Province of British Columbia through the Connecting British Columbia program. At Balfour, the cable connects to CBBC's fibre optic broadband network, which extends more than 800 kilometres throughout the Columbia Basin. The cable then terminates in Kaslo, where service providers can access the network and deliver connections to customers.

"I'm so proud that the Province was able to support this project and help Columbia Basin Trust and Kaslo infoNet Society bring reliable high-speed Internet to the residents and businesses of the northern Kootenay Lake area," said Minister of Citizens' Services Jinny Sims.
Another benefit of a community owned and based provider, is that it is easier for such an organization to respond effectively in a crisis. While the provider I have is providing degraded service without raising data caps, KiN has provided free speed increases and no data caps.
KiN would not be possible if it were not for support from the federal, provincial, and municipal governments, in addition to fees from local subscribers. Although it is worth noting, that as a result of government funding, users do not have to pay a setup fee, which generally ranges between $1,000 and $2,000 in rural communities. An important if not essential public policy.
For more technical and funding details of KiN, check out this deck that was produced for a BCBA conference.
KiN is another reminder of what is possible when a small number of people come together to improve their community's internet. It requires patience, local knowledge, and a willingness to be flexible, however the other key ingredient is government support and enabling regional institutions.
However what I find particularly inspiring about KiN is the combination of challenging geography and small population. The moral being, if they can do it, so can we!?
Finally, as always, here's this issue's bonus video(s):