I'm sure it's no surprise that the next five years will be risky and challenging; to the degree that we will be reliant on those closest to us, we are sharing a virtual lifeboat.
Consider a scenario in which we're on a ship that's sinking, and the lifeboats have been launched. Being some of the last still on board the doomed vessel, we can scan who's in each lifeboat and choose which one we'll clamber into.
It's a consequential decision because the currents and weather are already separating the lifeboats, and so each lifeboat will be on its own. The seas are increasingly treacherous, and the nearby islands are surrounded by reefs which could shred the lifeboat's hulls in seconds.
While we don't know everyone on board, we've met many of the other passengers and crew and made the acquaintance of a fair number of our fellow castaways.
So who do we choose to join? Our knowledge is imperfect: we only have first impressions and intuitions about the people who will potentially impact our life in a very direct and consequential way.
Do we choose to go in the lifeboat with a friend? This is certainly more appealing than a boat full of strangers.
Do we choose a boat with an experienced sailor whose skills in the open ocean would improve our chances of surviving the ordeal ahead?
Or do we choose a boat which is already under the control of a natural leader? If we understand that dithering and unresolvable conflicts can lead to disaster by default, then having someone in charge might be worth the risk that their leadership will lead to a catastrophically bad decision.
If we feel we have the experience to take charge and bring a lifeboat to safety, then perhaps we look for the disorganized, leaderless boat.
Alternatively, we can weed out those boats we'll avoid as potentially dangerous because of the presence of domineering individuals with traits that have poor survival outcomes.
When The Little Prince hopscotches to various planets on his way to Earth, he encounters the King who desires a subject, a conceited man, a tippler (addict), a businessman who claims all the stars as his possessions and a lamplighter busy lighting and extinguishing the lamp every minute. These are parodies of human types, of course; The Little Prince found some modest favor in the lamplighter because he was the only one who was not self-obsessed / self-absorbed.
The boats I would avoid are those with wealthy, powerful people who confuse their position and wealth with competence, when actually there is no connection to competence beyond whatever specialized niche they used to acquire wealth and power. Their assumption (a form of privilege beneath the surface) that their specialized competence grants them universal competence is disastrously wrong-headed.
These are the types who will steer the lifeboat onto a reef despite the warnings of the less wealthy/powerful because their confidence in their judgment exceeds their grasp of risk/reality and their general life competence. They fail to understand the extreme narrowness of their experience and competence and have an overly high opinion of themselves due to their success in a narrow niche.
I would also avoid boats with individuals who triggered my BS detector, our intuitive animal assessment of the trustworthiness and self-absorption of individuals. For those who don't automatically filter out their negative assessments as "bad" and therefore "not allowed," this assessment is remarkably rapid and remarkably accurate.
Boats filled with self-important, self-absorbed people I would avoid as death traps. I would also avoid boats with do-gooders / would-be saints whose motivation (above self-preservation, until it's too late) is to defend the rights of the weak as the most important principle, even in life-and-death circumstances. These types are especially dangerous because their life experience is that Somebody Will Rescue Us. They thus conclude we can devote asymmetric resources to the weakest because Somebody Will Rescue Us.
They are incapable of recognizing the difference between making the vulnerable/dependent as comfortable as possible given the resources available and devoting the primary effort to saving everyone but if this can't be done, then saving as many people as possible. They are unable to recognize the need for difficult decisions that may well have asymmetric outcomes for the individuals on the boat. In demanding equal outcomes, they will lose everyone's lives–an outcome that is certainly equal but foolish.
Choosing a boat with an experienced open-ocean sailor is an obvious choice, as the sailor has experiential skills that apply specifically to the challenge at hand. But let's say that obvious choice means that boat is already filled to capacity.
So if the obvious best choice is not available, then what boat do we cast our lot with?
I would look for a boat with low-key individuals with high situational awareness and experience in responding to crises and danger. Combat veterans come to mind, but there are many others with training and experience (or natural abilities) that aids their situational awareness, risk assessment and responses to rapidly evolving threats. The OODA loop (Observe, Orient, Decide, Act) is an example of this process.
I would also look for a boat with the increasingly rare individuals who do what they say they're going to do, and do it without self-obsessed drama/trauma or childish excuses. These individuals have a healthy awareness of their own limits and the limits of human nature. They don't overpromise to make themselves larger than they really are and they won't burden the rest of the boat with their self-absorbed histrionics or adolescent excuses.
Since I'm not qualified to lead as a sailor, and the only boat with an open-ocean sailor is full, I would look for a boat with a balance between hierarchy and self-expression / advocacy. The ideal situation is a boat in which every individual's advocacy of a particular action or strategy is carefully considered but the consensus reaches a decision and grants leadership to those with the best qualifications and most persuasive argument for their decision.
Once the decision of a strategy has been made, then the boat unites behind pursuing this strategy.
It's instructive to consider the greatest open-ocean, open-boat voyages that have been recorded. Some had existing military hierarchies (for example, Captain Bligh's epic 4,000 mile voyage in a severely overloaded open launch) while others were castaways lacking a strict hierarchy.
Whether the united effort of cooperation is imposed or agreed upon, this cooperation is key, as is a strategy based on the realities and risks.
Going it alone is a high-risk strategy. So is becoming dependent on self-important, self-absorbed people who are incapable of viewing reality as anything other than It's All About Me.
I'm sure it's no surprise that the next five years will be risky and challenging; to the degree that we will be reliant on those closest to us, we are sharing a virtual lifeboat.
Choose your boatmates carefully.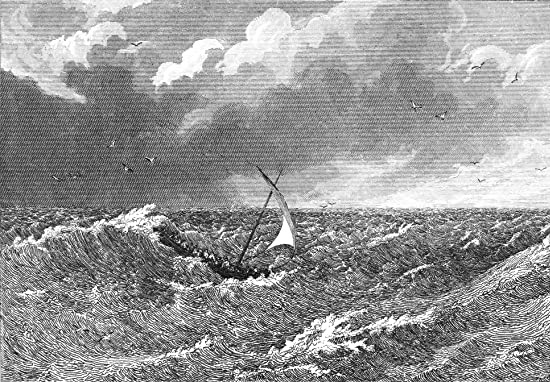 This essay was first published as a weekly Musings Report sent exclusively to subscribers and patrons at the $5/month ($54/year) and higher level. Thank you, patrons and subscribers, for supporting my work and free website.
If you found value in this content, please join me in seeking solutions by becoming a $1/month patron of my work via patreon.com.
My new book is available!A Hacker's Teleology: Sharing the Wealth of Our Shrinking Planet 20% and 15% discounts (Kindle $7, print $17, audiobook now available $17.46)
Read excerpts of the book for free (PDF).
The Story Behind the Book and the Introduction.
Recent Podcasts:
AxisOfEasy Salon 42: Is System Change Likely, Possible or Inevitable? (58 min)
Charles Hugh Smith on the Terminally Ill Economy (49 min)
Keiser Report | Bilking Grandma is the Business Model
In the second half, Max interviews Charles Hugh Smith of OfTwoMinds.com about the 'fatal synergies' and the 'sealed pressure cooker' resulting when the system refuses to offer a solution to those denied a voice or access to resources. They also discuss the oversupply of elites and the chaos this ultimately brings to society.
My recent books:
A Hacker's Teleology: Sharing the Wealth of Our Shrinking Planet (Kindle $8.95, print $20, audiobook $17.46) Read the first section for free (PDF).
Will You Be Richer or Poorer?: Profit, Power, and AI in a Traumatized World
(Kindle $5, print $10, audiobook) Read the first section for free (PDF).
Pathfinding our Destiny: Preventing the Final Fall of Our Democratic Republic($5 (Kindle), $10 (print), (audiobook): Read the first section for free (PDF).
The Adventures of the Consulting Philosopher: The Disappearance of Drake$1.29 (Kindle), $8.95 (print); read the first chapters for free (PDF)
Money and Work Unchained $6.95 (Kindle), $15 (print)Read the first section for free (PDF).
Become a $1/month patron of my work via patreon.com.
---
NOTE: Contributions/subscriptions are acknowledged in the order received. Your name and email remain confidential and will not be given to any other individual, company or agency.
| | | |
| --- | --- | --- |
| Thank you, Eudoxie D. ($25), for your most generous contribution to this site — I am greatly honored by your support and readership. | | Thank you, L.M. ($25), for your very generous contribution to this site — I am greatly honored by your support and readership. |