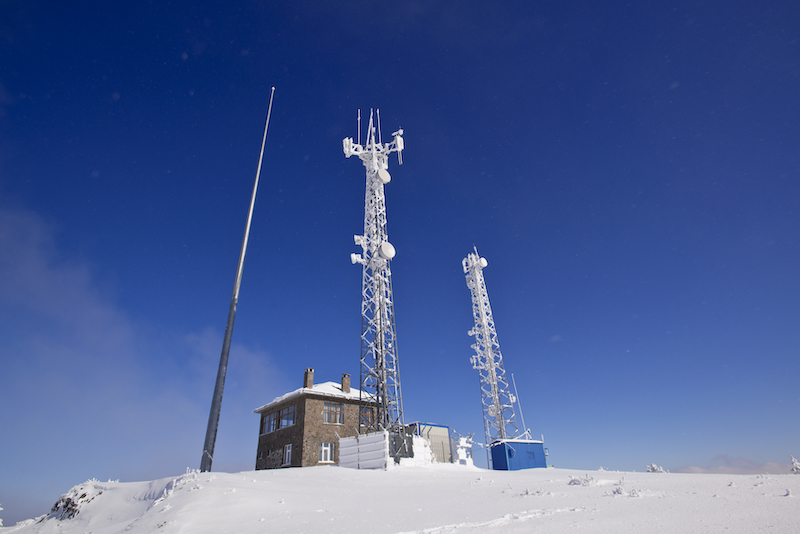 easyDNS is pleased to sponsor Jesse Hirsh's "Future Fibre / Future Tools" segments of his new email list, Metaviews.
Bringing High Speed Internet to the Arctic
Given Canada's vast and diverse geography, ensuring that high speed access is available to everyone, everywhere, is no easy task. It will take a range of technologies, considerable resources, and creative thinking, to ensure the country is connected, from coast, to coast, to coast.
It's that third coast, the Arctic coast, and the islands of Nunavut that many of us in the South fail to consider or include in our conception of universal broadband access. Yet there's a range of reasons why we should be just as serious about high speed Internet in the far north as we are in the rest of the country.
Low Earth Orbit satellites, or LEO, has the potential to make connectivity for arctic communities a little more realistic, although still far from perfect.
Mike West is a Metaviews subscriber, friend, and a creative entrepreneur when it comes to helping small and remote communities make the most of the Internet, via his company Nuvujaq.
One of the benefits that all of you have as Metaviews subscribers, is that you can ask me for modest favours and relevant support when it comes to this newsletter. For example, you can invite me to sit on a panel you've organized the night before it happens, on the assumption I've got nothing else going on that day, and that the content of the panel would make for a good future issue:
Headed down to the Canadian Space Summit #CSS2019 to join @mwest_ and Diego Paldao from @OneWeb on a panel discussing the potential for Low Earth Orbit satellite broadband connectivity in the Arctic and rural Canada. https://t.co/2Kb463DXVuhttps://t.co/vAu0AGVvm0 https://t.co/ehYbX8mZEC

— Jesse Hirsh (@jessehirsh) November 19, 2019
Mike had been talking to me (and tweeting) about LEO satellites for some time and I was interested to learn more.
A rare article about LEO satellites that isn't just industry hype. "There are quite a few unknowns and there's quite a lot of optimism that I think isn't justified." – @drspacejunk https://t.co/IUr2CfZh6t

— mwest (@mwest_) November 17, 2019
It may come as no surprise that the Internet really sucks in the Arctic. It's not just the speed, or the high latency, or that the Internet goes down in bad weather, it's also how the Internet, as an artificial scarce resource, is managed:
Went through my daily 500MB limit in less than an hour at the Frob.

Speed is a bullshit metric in Nunavut. People need to be able to do 200-300GB/month without going broke.

— mwest (@mwest_) September 16, 2019
After the panel, I asked Mike a few questions about his company Nuvujaq, and the potential for LEO based connectivity:
How did Nuvujaq start?
My partner Madeleine Redfern and I had a shared understanding that innovation in the ISP/telecom industry needed to be in governance, not technology.
Why is this project so important?
The Internet is slow and expensive over satellite. Communities in Nunavut will never be able to function like the south until we have computing services available locally. Our project is about building and operating mini data centres across Nunavut and other satellite dependent communities, with an Internet Exchange and basic services (storage, cloud computing, ntp, dns) available community wide.
The first two ᓄ2 data centres, designed and built in the North. Thanks Total North! #Yukon #Nunavut pic.twitter.com/6aEVruBoVF

— ᓄᕗᔭᖅ (@nuvujaq) November 28, 2018
What is a local cloud?
It's a work in progress and not what we anticipated. The "cloud" only means that we aim to duplicate the architecture and services in each community – that's the only way we could ever manage this. It's an open network at the very core, meaning anyone with an "autonomous system" will be able to peer with us and other networks at the Arctic Internet Exchange (a non-profit independent of Nuvujaq).

It's corny, but the local cloud is really the friends we make along the way – we have a lot of great people and organizations supporting our mission.
What is LEO?
A whole new generation of satellites that orbit the earth much lower than traditional "geostationary" ones. Because they are 20X closer to the earth, the almost 1 second latency of traditional satellite will disappear. This is huge for the Arctic.
"Our constellation will offer universal high-speed #Arctic coverage sooner than any other proposed system" – our CEO @adriansteckel on #OneWeb's newly-announced Arctic internet service, coming 2020. pic.twitter.com/O6qOWtQbeV

— OneWeb (@OneWeb) September 5, 2019
How can LEO be used to improve arctic connectivity?
The biggest thing is what the low latency connectivity will enable in education and health. The video technology and service delivery already exists, it just hasn't been possible to implement in the Arctic. Being able to video-conference properly is going to make a big impact.

We also expect LEO to create a huge boom in research activity – there are LEO constellations that will be collecting imagery at very high resolution and frequency, as well as satellites building the "Internet of (Remote) Things". Nunavut alone is 2 million square kilometres, with increasing importance because of climate change. Drone missions and remote data collection are a lot easier with the low footprint of the LEO end user terminals. Arctic UAV is a very cool company that just can't get data out efficiently right now.
Will LEO also be viable in southern rural communities?
Yes, both OneWeb and SpaceX are launching service in parts of Canada next year. Telesat has been given $600M to subsidize their service once it's launched. This will be a great solution for isolated locations, and can help ISPs in rural areas fill in gaps, provide redundancy, and bring down transit pricing in their region.
What do you need to succeed?
We need Bell and the other ISPs to peer with us and each other at the Arctic Internet Exchange.
What are your obstacles to success?
Government subsidies being applied in an unfair and anti-competitive manner. The Internet we are trying to make stay local (up to 10Gbps local connectivity to our "cloud"), is not eligible for remote and rural broadband subsidy programs. Government of Canada has also given Telesat a $600M advantage over their competitors, even though they are years behind OneWeb and SpaceX. Nunavummiut (and farmers across the country) shouldn't have to wait for the "Canadian" LEO network.

Huawei being given the green light to enter the Arctic is also a big obstacle. Clearly this a political move given the tiny market size and we have no idea how much money they are willing to lose on this venture.
Huawei or whoever, having 3 ISPs in small, remote communities is not the answer to improving access. It's bizarre…and only possible due to a broken subsidy system. https://t.co/lhj7GMFSf0

— mwest (@mwest_) September 9, 2019
With OneWeb, SpaceX, LeoSat and Telesat low latency LEO networks all coming ahead of this proposed fibre, Main is right to be asking questions. https://t.co/14jnRs0M15

— mwest (@mwest_) October 24, 2019
Where is your funding coming from?
Private investment. We expect our tests in Iqaluit will prove to the Government of Canada that cloud computing in satellite communities is critical, not just an idea. Schools, hospitals, governments and business, along with every single person in Nunavut deserve the same chance to develop digital infrastructure as the south.
Nuvujaq's story and ongoing efforts are symbolic of the struggles many Canadians face to get reliable high speed Internet. There's a need to be creative, adapt the technology for local purposes, and be persistent when it comes to making it happen.
We'll be keeping tabs on Nuvujaq's efforts, as well as profile what Mike is doing in Smiths Falls Ontario in a future issue.
We also plan to profile other people engaged in similar community, regional, or innovative projects that help spread telecom literacy and improve access (and affordability). Let us know if there's someone or some organization you'd like us to feature.
If you'd like to learn more about LEO connectivity and how it works, scroll down for a video from Telesat that breaks it down.
Before you watch this video, one thing to keep in mind. Telecom is always hyped, like any technology, to seem greater or faster than it actually is. While I'm excited for the potential of remote arctic communities being able to get better connectivity, I'm skeptical that this technology will live up to what's promised.
We'll definitely dig deeper into what Telesat is up to, as the chances of this not meeting expectations, or going sideways, are fairly high.